Dear Friends,
I LOVE Molly Green's magazine!!
Here is a lovely article about gardening with your children.
I pray you are encouraged this day!!
k
Hearth & Home
A Child's Garden
By Lisa Barthuly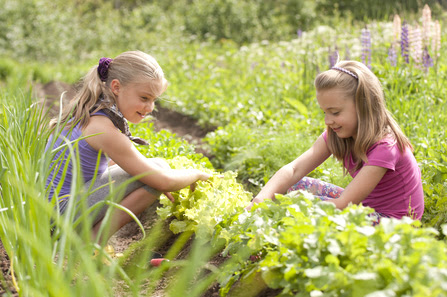 It's that time of year … we all sit down with paper and pencil in hand, and start to "map out" and dream … about this year's garden! Why not sit down with our children and do the same? Gardening is wonderful family time, and involving our children and inviting them to join in is a great learning experience for young and old alike. Cultivate a love of gardening with your children, no matter their age, by letting them participate in the family garden! Even better yet, give them their own "garden space." This could be a container on the porch, a flower bed, or even a section of a larger garden space that is all their own. Gather paper, pencil and some gardening/seed catalogs and dream together! Let them choose what they want to plant, teach them to work the earth, plant their seeds, and care for them. Starting seeds together indoors "plants" the gardening seed within them. Kids love to plant starts in egg cartons or other containers, watch them grow, and tend to them.
When it's time to plant their seedlings (and seeds) outdoors, mark out a spot in the garden for them to care for. This is their garden spot, and they will delight in watching the seeds they have planted grow, through their nurturing and prayer. The look on their faces when they see the first sprig of green pop through the ground is priceless! Children learn so much by "doing" and "watching us" – the time spent together is a gift in and of itself.
Let them experiment. So what if they plant only daisies or petunias because they are "pretty ones"? So what if their rows aren't perfect? (Mine aren't either.) It is the learning experience and time together that truly count. Even a 2-year-old can plant seeds for starts in a paper cup, dig in the dirt, and pick rocks out of the area while older children can help prepare the garden area, plant, weed, water, and PICK!
Feeling creative? If you have the space, children would LOVE the idea of a "sunflower house" or "corn fort"! Plant sunflowers in a "square" (with one open side for entry) or plant corn in square designs, 4-6 rows deep. These make for wonderful childhood hideaways and memories! A slightly older child might create a themed butterfly garden or a hummingbird garden. How about a bean tepee or a "morning glory fort"?
My children love to make their forts at the base of evergreens, with some stumps or rocks; they've spent countless summertime hours enjoying their special outdoor spots! Maybe this summer they would enjoy a fort inside the garden area, or maybe they'd like to plant some flowers or veggies around their fort. I am just betting a morning glory tepee would be a HUGE HIT! Place an old chair or two out near this area and it would make a delightful reading spot, too. It's amazing all the things children can do with imagination, dirt, sticks and seeds!
As we all begin to plan for the spring planting season, make it a family project. Include the children–they will love it! We include planting every year as part of our homeschool lessons, whether its corn seed starts in paper cups or a full scale garden; it is a teaching and learning experience every year! Enjoy this "season before the season" and plan on spending some time helping your children dream up their special garden!
~Lisa
 Visit Lisa at her "homestead on the web" at:www.HomesteadOriginals.com/blog and for more homemade recipes check out her book, A Simply Homemade Clean, available at www.HomesteadOriginals.com.