Hello Dear Friends,
I LOVE Molly Green!! Here is a post from today!! When I get back…I am doing this!! I love Doterra and I love essential oils instead of chemicals!! So HEALTHY!! 🙂
This is great!! Super cost effective, super healthy and easy peasy!! And with a little planning and organizing…such a healthy alternative to something so important right now with all the flu and colds going around. LOVE IT!! 😉
Thanks so much Molly for sharing this wonderful article by Lisa!!
I pray each of you are blessed this day,
k
Hearth & Home
By Lisa Barthuly
Winter's grip is tight this year! With it comes cold and flu season. In our neck of the woods, this year's flu is being called a state-wide epidemic! Not only is the word "epidemic" being used, but it's turned into a deadly one at that! In an effort to keep those germs as far away from my family as possible, I whipped up an all-natural, homemade hand sanitizer!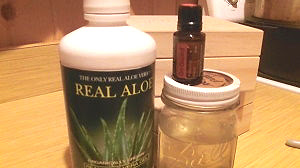 This literally takes only minutes to make and keeps those toxic chemicals that fill commercial hand sanitizers out of our bodies. Our skin is our biggest organ. I want it absorbing the good stuff, not the bad. I want it absorbing the excellent things God gave us, not the manmade chemical-laden stuff. We can do this so easily. Ready to make up a batch? Gather up your supplies!
We'll need a glass jar (I use canning jars for just about everything), lid, a tablespoon measure, some aloe gel (store bought or you can cut a stalk or two off your plant), 6 ounces of water, and esse
ntial oils. Now, you can use a variety of essential oils, but this recipe calls for 10 drops each of Cinnamon, Lemon, Clove, Rosemary and Eucalyptus. I use a blend from doTerra called On Guard that contains all of the above and has been shown to kill MRSA. That is what I want in my home remedies arsenal, to protect my family! You can follow this recipe exactly or you can mix up your own blend. Clove is the really super key ingredient–it is powerful. Another powerhouse oil is Frankincense! I love the doTerra blend of On Guard, it's already blended with the best oils for fighting germs, for me!
So, I take my canning jar and pour in 6 ounces of water, add in 2 tablespoons of aloe gel, and 50 drops (total) of essential oils. I stir it up and pour it into a clean little spray bottle. Done. It is that simple! I had only a tiny spray bottle on hand, so I stored the rest in the canning jar with the lid secured and marked clearly. I keep one spray bottle in the kitchen and one in each vehicle. Give it a quick shake up (to mix the oil/water together), spray it on your hands, rub together and you're done. The aloe is soothing to the skin and the essential oils naturally kill any germs.
I love making up all natural goodies here at my homestead to care for my family. They are healthy, cost-effective, simple and the best way for me to care for those I love!
From my homestead to yours,
~Lisa
Lisa Barthuly lives in the mountains of the American Redoubt with her family. She is a Follower of Yeshua, Torah Lover, Helpmeet and Mama! She enjoys a simple, home-centered life built on God's foundations; studying scripture, homeschooling, scratch baking and cooking, canning, candle making, gardening organically, and raising dairy goats and chickens. She's the family herbalist, enjoys goat milk mochas, reading and loves a round of competitive target practice!
Article Credit: MollyGreen.com
Picture Credit: Doterra.com